For Groups

Group Classes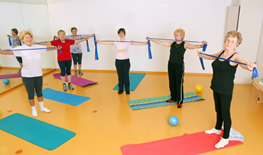 Core Strength, Stability and Balance is a fitness class developed specifically for seniors who want to stay active and independent.  This class will encompass a wide variety of exercises geared to improving overall functional capacity.  Exercise room education, proper posture & body mechanics, fall prevention & gait training will be included.
Yoga for Seniors - Experience all of the health benefits of yoga with specific emphasis placed on the special needs & concerns of seniors including improving overall functional capacity.  Participants have the option of performing all exercises, floor & standing, while sitting on a chair instead.
Chair Yoga - Chair Yoga is a wonderful way for individuals with physical limitations to experience the relaxation, improved  flexibility, muscle tone, balance and coordination that yoga can offer. A strong emphasis will be placed on safety, proper form and breathing.  Modifications will be given for all participants. This class will take into consideration that some individuals must stay in their chair the entire session while others may have the physical capacity and motivation to do certain exercises standing and/or sitting on the floor.
Functional Fitness & Gentle Yoga Fusion - Senior yoga & functional fitness exercises are combined in a well sequenced manner to improve overall health, fitness & functional capacity.
Modifications are always given for individuals of all fitness levels as well as those with medical limitations. Safety, proper form &  breathing are always emphasized.  All participants must receive medical clearance before participation.
Wellness Seminars
Workshops - All workshops are interactive, providing an introduction to the subject area, through a combination of lectures and demonstrations.  Participants are given the opportunity to practice skills and exercises that are introduced.  Suggestions as to how they may incorporate them into their daily routines are given.
Fit and Healthy Over 65
Better Balance for Seniors
Yoga for Active Living

Senior Functional Fitness- Part One - What is Functional Fitness
Senior Functional Fitness-Part 2- Fitness Assessments -
How Fit Am I & What Can I Do to Improve.
Fall Prevention
Exercise Room Education
Contact Tiffany today to receive 20% off your initial group session enrollment fee!
215-322-7014
E-mail: fite.fitness@verizon.net